Need for Better Social Media Optimization: Onset of a New Social Media Age
Are you active on all your social media platforms? Well, in times where most of the promotional and marketing activities take place on social networking sites, you really ought to be updated on different social media platforms. But at the same time, you also need to be completely up-to-date with the way in which SEO regulations ebb and flow with each new algorithm update that Google releases.
So, what is Social Media 2.0? It is the perfect alliance between social media and search engine optimization. Social Media 2.0 allows the rediscovery of the extent to which SMO can be developed. In the present scenario, the most that someone can make use of as far as SMO is RSS feed, blogging sites, bookmarking sites, etc. These sites drive traffic to the website and improve the site's organic search results.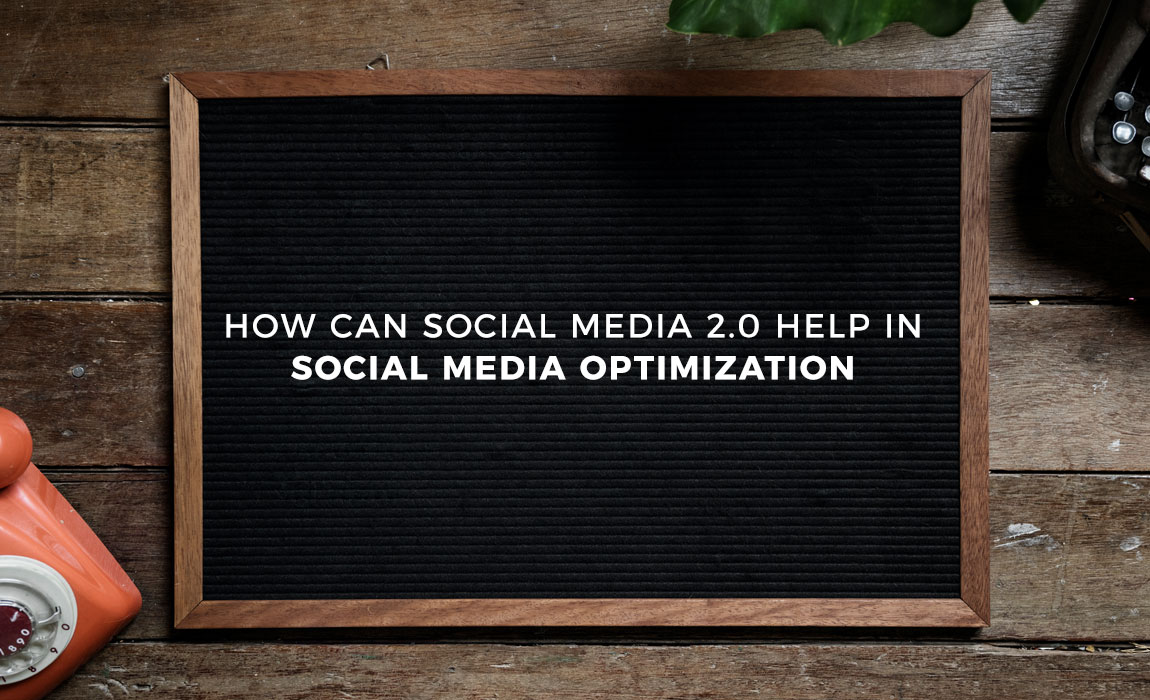 Why Do You Need Social Media Optimization and How Does Social Media 2.0 Help?
Here are the four top reasons why you need Social Media 2.0 as an application:
Ensures a Strong Presence on the Web
When you post engaging and interesting content on social media, it appeals to the audience. This draws their attention and helps in developing a strong social media presence. Social media gives you an opportunity to show the human side of your company which helps in creating an actual relationship with customers. So, it not only familiarizes your business to the people but also helps in marketing, branding, and increasing brand visibility. However, what happens when your content on social media platforms is forgotten in the slew of information that is uploaded on a daily basis on these networks. With Social Media 2.0, you can now use this content that you create for social media networking and reputation building for the development of better SEO content and can also include the same for website optimization.
Increased Accessibility of Social Media Content
SMO allows you to reach out to your customers on your own terms. When you upload eye-catching content on Facebook, Instagram, and Twitter, it boosts your visibility and increases your audience outreach. (bushnellmotorsportspark.com) You can also enhance your Search Engine Optimization through this visibility. The best part of Social Media 2.0 is that it increases accessibility of content to a large extent. Your customers can check your content on your website and can reach out to you anytime, anywhere, irrespective of whether your content turns up on their social media feeds on not.
Improves Search Engine Ranking
By combining both Search Engine Optimization and Search Engine Marketing, then social media content can play a huge role in increasing the ranking of websites on search engine results page (SERPs). This is because search engines acquire data from social media channels as well, Google+ is one such example. These results are shown in the Google results. However, with the help of Social Media 2.0, you can avoid the pitfalls of relying on chance alone to ensure that the content you created and published on social media platforms like Google+ turns up in the SERPs. Social Media 2.0 improves search engine ranking and helps in gaining increased popularity amongst users without having to rely only on uncertain social media algorithms. You can now use the massive canvas provided by Google to promote your content, which would have otherwise only been visible on social media platforms.
Drives More Traffic
Previously, one of the most common ways to combine social media marketing with website content or in other words, SEO, was to share the URL of your web pages as social media posts. This process has now been turned on its head! What once used to be a place where content was prepared to be distributed is now a place for distributed content to be integrated under one digital umbrella.
The ability to converge all your distributed content at one place is akin to being able to converge all traffic from different platforms on one digital surface. But is that not already happening, you might ask? Well, the difference with Social Media 2.0 is that it allows for the publishing of content in such a way that target audience, marketing strategies, content creation techniques and so much more can be consolidated and managed from within one place.